Rolex, made by an orphan, became the world's most expensive watch worn by the rich
As soon as Rolex is mentioned, most the people think of expensive brand or prestige of a person. For some, it is like a dream. But it can also increase the respect for some people's personalities.
There is also a common belief that expensive things help to strengthen a person's personality. Today, the value of the Rolex company is around 8 billion dollars (more than 10 billion rupees).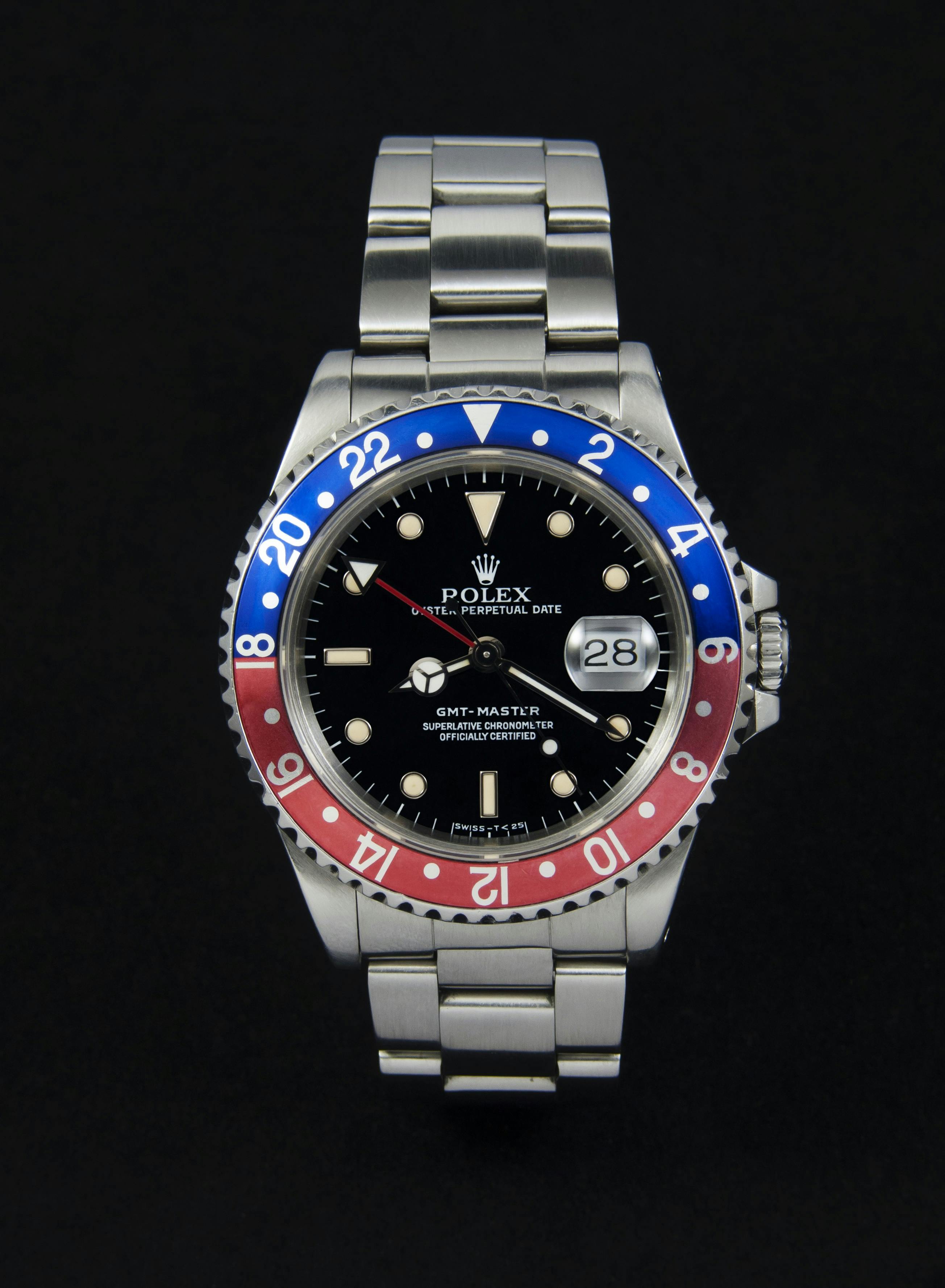 How did 'Rolex', one of the world's most expensive brands with so much importance, start? In fact, this expensive watch that adorns the hands of the rich was born in the hands of an orphan who had no one.
That orphan, who had neither anyone nor anything with him. But he had a strong will to change his situation. With this determination, he left his birthplace and went to another place. From where the century-old history of Rolex begins.
childhood
Born in 1881 in Kumbach, Germany, Hans Wilsdorf is the son of Anna and Johann Daniel. He is born in a prosperous business family.
His family was happy and prosperous as he was doing the business of making iron materials handed down from his grandfather. Their life was going well. But Hans' mother, who had been ill for some years, died in 1892.
Hans' father also died before he could recover from this pain. It was an unbearable pain for 12-year-old Hans who lost both his parents within a year. Thus he suddenly became an orphan.
The three brothers of Hans, who were destitute, started living with their uncle. His uncle took charge of all of them. On the one hand, the loss of parents, on the other hand, the dilemma of how the future will move forward.
Meanwhile, his uncle decided to sell all his property and spend on his education. For their education, the uncle enrolled all three of them in a boarding school named Ernestinum Cobarth in Bavaria, Germany, to continue their further studies.
But Hans was not happy with this decision. A new city, new people and new friends did not appeal to the parentless Hans. He could not wet himself in that place. His school friends used to tease him because he was from another city and of a different religion.
How can anyone be happy in such a situation? After that he decided to focus his attention on studies. However, Hans did not like the decision of his uncles. Moreover, he was not satisfied with that place either. But he had no choice but to accept the situation.
However, Hans thought that it should be read well. Although he did not like the decision of his uncles to send him to boarding school, he was confident that if he studied well, his future would be good.
Therefore, he considered it appropriate to focus on his studies while putting up with other things and started concentrating on his studies. He considers that time as the reason for his success.
Hans was a brilliant student who was very interested in reading books. He was very talented in mathematics and linguistics than in other subjects. He had learned French and English in school.
He was interested in learning about new places and he understood very well that one must be proficient in the language in order to visit new places. This understanding became the key to his success.
'Switzerland', the first opening of business
One of Hans's friends in school was from Switzerland. He was a very good friend of Hans. He used to tell Hans many things about his country.
He told Hans a lot about a town called Lasso-de-Fonds, in particular, which has a long history of watchmaking. Which attracted Hans a lot.
He started looking for more information about watch production and the city. He then began a serious study of the watch industry in the city.
And from here, his business journey begins. The city he had heard a lot about from his friend became the city of his dreams. He had to go to that place. At the age of 19, Hans left for Switzerland as soon as he finished school.
The struggle was the same in a new country, new city, new people and new environment. After moving to Geneva, Switzerland, he started working as an apprentice in an international pearl exporting company.
The company used to process the pearls bought from different places and sell them to jewelery shops in different cities. While working there, he discovered something about the company.
Although the company was not doing any productive work, it was making a lot of profit. He was paying special attention to this. While working in the company, he was earning good income at a young age and was also learning business strategy.
This is how his new life was going. One day he received a letter from his friend. In that letter, Hans was invited to work in his company 'Kuno Curtain'.
Kuno Curtain was a high quality watch manufacturing company of that time. which used to export millions of watches every year. The most interesting thing was that this company was in lasso-the-funds. Where he wanted to go. This was the place where he had reached Switzerland after hearing the history.
However, compared to his friend's company, he had a lot of advantages in the pearl company where he was working. But for him, his interest and curiosity towards the watch industry became bigger than his income. When the opportunity came from where he wanted, he did not want to think twice and in 1900 he left Geneva and went to Lasso-de-Fonds.
There he started working as an English correspondent and clerk. His interest in languages ​​at school and the English language he learned benefited him. With a salary of 80 Swiss francs (Swiss amount) per month, he started working in that company writing and reading English.
Apart from this, he also started to see whether the ready-made pocket watches are giving the correct time. Thus, while he was in that company, he got a lot of information about watches. He had also gathered a lot of knowledge about how different watches are made.
But this time was too short for him. Even he did not feel like a long time had passed since he had been living and working in Switzerland. But it was time to return to Germany.
At that time, according to the rules of Germany, every citizen of the country had to serve in the country's army. After a two-year stay in Switzerland, he returned to Germany and joined the army.
Even after his military training, his passion for the watch industry did not diminish. After completing his military training, at the age of 22, Hans went to Britain. There he also started working in a high quality watch company.
His role in that company was more important than in the previous company. He handled sales management there.
While working in the British company for two years, his main role was to increase the sales of watches and he was successful in this work. He was also successful in adding many new customers to the company and increasing the sales of the company.
By that time, he had already thought of starting his own watchmaking business. From the companies he worked with, he gained knowledge about how to run his own business and what is required for this, how to manage a business, etc.
It was during this time that he met Florence Frances May Crotty. They got married shortly after meeting.
Wilsdorf & Davies Limited
Hans was focused on his goal. But he was still confused about where and how to start his own business. Time was passing like this. One day he was busy with his family outside his house in a casual conversation. His first-in-law Alfred James Davis was also there.
They were talking about their current situation and future. At the same time, Hance told Davis that he was interested in the watch business and that he had the confidence to do so. But he also said that he does not have the necessary capital for investment.
On the one hand, Hans had no money. But Davis had the money, and he knew how dedicated Hans was to the business. Hans was very young in terms of age.
But because of his persistence and perseverance, Davis promised to invest in the watch business. This is where Hans' business journey begins. In 1905, these two people together established a company called Wilsdorf & Davis Limited.
Over time, this name came to be 'Rolex'. Thus began the business journey of Rolex. After working for some time, they also partnered with Switzerland's largest watch company 'Hermann Agler'. With this partnership, they started exporting watches produced in their company to the UK.
They also established a Rolex office in Switzerland to manage the company's operations. Thus they were running their business well.
At that time, Rolex was selling watches at affordable prices. Their business strategy was to sell cheap and affordable watches.
Business was good. But Hans' study journey on clocks and the clock market never ended. As the business progressed, he also kept an eye on the watch market. At the same time, his mind identified a discrepancy in the watch market. That problem was in the pocket watch.
At that time, most women used to wear wrist watches as jewelry. Some even criticized this type of watch. People didn't like wrist watches because they didn't keep accurate time compared to pocket watches. In terms of size, wrist watches were smaller than pocket watches.
Due to the small size, the materials used inside the watch were also small. As a result, the clock hands were not working properly. The time was sometimes fast and sometimes slow in the watch worn on the wrist.
Because of this problem, pocket watches were more popular at that time. Moreover, because such a watch was big, it was considered as a watch used only by men.
Hans did not understand this distinction. He believed that pocket watches were too complicated for people. He thought that it would be difficult to see a pocket watch.
He argued that a pocket watch would not be useful for keeping track of the time when both hands are busy. On the one hand, Hans argued that pocket watches were not useful, on the other hand, it was almost impossible to produce a wrist watch that would give accurate time at that time.
It was not possible to give the exact time at the time it was happening. In this case, it was challenging to challenge the pocket watch and bring the wrist watch into vogue.
This work was difficult in the 20th century. Around 1914, he claimed that wrist watches would be a new trend for people in the future. Then he started to fulfill his claim. He started making every possible effort to make the time given by the wrist watch accurate.
His dream of running a watch business now turned towards changing the trend of people using watches. For this, he visited many countries of the world and met the manufacturers of various big companies and started collecting every little detail about the watch.
During his travels, he was learning how to improve the quality of watches. During this trip, he also made clocks himself.
He was using the knowledge he had learned from other companies in the world in the production of his company. Meanwhile, Rolex had produced many wristwatches for both men and women.
Their business grew so much that within three years of the company's founding, i.e. by 1908, Rolex had become the best watch manufacturer in Britain.
The naming of Rolex
Seeing the growing popularity of his company, Hans wanted to change the name of the company. He was looking for a name for his company in any language that would be classy and memorable as soon as people heard or saw it.
In addition, it was equally important to have a small name that could be attached to the watch. Hans was looking for a five-letter word for the company. He spent a long time for that. The name of the company was equally important for Hans, who completed every job in a perfect manner.
While searching for a unique and catchy name for his company, he was looking for a short word rather than a meaningful one. Finally, on his way to building a watch empire, Hans himself coined a new word for his company, 'Rolex'. Actually Rolex has no meaning.
He kept trying to find the name of the company by combining different letters to make it a name. At the same time, one morning he was riding his horse around the city. At the same time, the name Rolex suddenly came to his mind.
On Rolex's official website, it is mentioned that Hans heard someone say 'Rolex' and he liked the name and decided to keep it as the name of the company.
After a long search, he decided to name the company Rolex and immediately registered the name as a trademark of his company. Within a few years of changing the name, Rolex had succeeded in becoming the most preferred watch in the market with its high quality.
On the other hand, Rolex became the choice of the rich. Each day Rolex became stronger. Rolex continued to reach heights of success one after the other. Hans was also watching his dream come true.
Meanwhile, the First World War began. Many industries went bankrupt during the World War. Some companies even closed down forever. It was destroying the world economy. But even World War could not touch Rolex.
While the world war was ravaging other companies, this time became an opportunity for Rolex. By that time, Rolex had established itself as a reliable watch manufacturing company in the world market. The World War not only made Rolex famous, but also increased the sales of its products.
During World War II, many soldiers were provided with Rolex wristwatches. Rolex watches were distributed to the soldiers who were going to war as they were easy to use and give a certain time.
This helped to increase the company's business. At a time when other companies were closing down, Rolex increased the number of employees to 60. He also established a large office in the UK.
Along with this, the company also received the first 'Wristwatch Chronometer Rating' from Switzerland, i.e. the first rating for a wristwatch that gives real time. Similarly, for the reliability of the company, the UK's National Physical Laboratory also awarded Rolex as a company that produces a class of materials.
With these honors, the credibility of the company in the market became stronger. This made people even more motivated to buy Rolex. Hans' life was happening as he thought.
He thought about the business and the fashion of wearing watches that is transforming. But the more difficult it was to reach this furnace of success, the more difficult it was to stay in that furnace. In 1914, the British government decided to impose a tax of up to 33 percent on companies registered there and exporting goods to the international market.
This decision became a matter of concern for Hans. Then he took his company to Switzerland and registered it to get rid of this tax. He brought the company to Switzerland and immigrated himself, not only because of the British government's taxes, but there was also another reason.
After the First World War, the British began to hate German citizens. Although he made his company trademark Rolex, the name of the company was still Wilsdorf & Davis Limited.
He also had to change the name of his company because of the German name. Then he registered the name of the company as Rolex Watch Corporation Limited in 1915. Ten years later, Hans also registered the official Rolex logo with the five-star crown.
Before that, in 1919, he also moved the headquarters of his company from Bien, Switzerland to Geneva. Today, Rolex still has its headquarters in Geneva. After that, the company began to manufacture the clock parts in Bian and send them to Geneva, and after giving the final design in Geneva, they started to put them on the market for sale.
Hans' dream of making Rolex valuable still did not stop. He was always on the lookout for ways to further improve his product. He believed that Rolex watches needed to be permanently protected.
He went on to further study, saying that Rolex will not be established as a perfect watch until the Rolex watches that are gaining commercial success are dust-proof, water-soaked and unaffected by hot or cold temperatures.
Hans envisioned the watches that we easily get today as waterproof, dustproof or the features that we look for in our watches. His dream was not only to make watches, but also to make history in the watch industry.
He studied a lot for this. His study took a long time. So long that the company had to wait until 1926 to make the best watch as he said. The time was long, but the Hans did not stop. His study and patience also enhanced the customer experience.
Rolex released a new model 'Rolex Oyster' in 1926 to shake up the watch industry with a long history. Rolex Oyster is the first waterproof watch in history. The outer glass was sealed very tightly so that there was no impact on the parts of this watch.
Hans knew that this product would be the most revolutionary product in history and that many people would love it. However, Hans introduced such an epoch-making product to the market in a very general way.
Marketing needs
There was a woman named Mercedes Galitza in Britain. She claimed to have completed the 20.5 mile journey from Britain to France by swimming.
But when many people did not believe her, she again announced in the presence of thousands of people that she would complete the 20.5-mile water journey by swimming, no matter how cold the water.
It didn't take long for this to reach Hans. This announcement of Mercedes also became a good opportunity for Hans who sees opportunity in everything. This announcement came a year after the company launched its waterproof watch.
He took it as an opportunity to promote his watch and made a Rolex watch necklace around Mercedes' neck. Mercedes' water journey, which promoted the watch to be safe from water and fulfilled the claim of completing the 20.5 mile water journey by swimming, did not last more than 10 hours.
She was not far from her destination. She had completed about 75 percent of the journey. But due to extremely cold water, Mercedes' breath was stopped and she was rescued.
The journey of Mercedes is not complete, but the journey of Rolex watches is complete. It was like a Rolex Oyster that came out after sailing for 10 hours. Neither the water nor the temperature of the water could affect the clock.
This surprised people. After that, various magazines made the news of Mercedes by standing Rolex as a revolutionary watch in the title.
Due to this, the company's advertisement was free all over the world. Also, the company started presenting a fish tank (a glass vessel used for keeping live fish) with live fish in each of its stores, along with a watch.
It attracted people a lot. While walking on the road, people used to stop for a while to look at the clock placed in the fish tank with the fish. This way of marketing the product helped Rolex to reach more people. After that, Hans also started investing in the marketing of watches.
In 1928, he made a deal with Evelyn Lay, a very famous British model, to promote his watch. Evelyn posed for a photo with her hand inside a fish tank to promote Rolex's waterproof watch. This photo was used a lot in the promotion of the watch.
Just as the Rolex watch was gaining ground in the market, Hans started to gain ground for its marketing. In other words, in 1933, another advertisement of Hans's Rolex watch was on Mount Everest.
The crew member of the first airplane to reach Mount Everest in Solukhumbu, Nepal, known to the world as Mount Everest, wore a Rolex watch.
When they returned from the flight, the watch they wore was intact. Many newspapers made news about it. This further expanded the promotion of Rolex. Similarly, in 1935, when the famous driver Malcolm Campbell set a speed record of 300 miles per hour, he was wearing a Rolex watch.
After that, people began to define Rolex not only for its attractive design, but also as a watch that can be used in everyday life in any situation at any time. In the matter of marketing of the company, Hans said that good marketing is necessary for any company to be successful at that time.
Successful and unsuccessful company models
By that time, Rolex had succeeded in making people addicted to watches through its new models. In 1931, the company launched a new model of the Rolex Oyster waterproof watch, the Rolex Oyster Perpetual.
It is the world's first waterproof and self-setting watch. But it became complicated for the user. The seal of the watch, which was tightened to make the watch waterproof, made it difficult to set the time by itself.
It was so tight that people could not turn its needle by themselves. Due to this, this model of the company did not find a place in the market.
Similarly, there is another model that could not find the market, in which Hans produced his own name instead of Rolex. He also trademarked his own name. But many people in the market did not like that watch.
After the First World War, the watch bearing the name of Hans could not last in the French, British and American markets due to Germany being discredited.
Despite the long history of the business, new products given to the market, new trends started among users and many other positive efforts, Hans had to work twice as hard for the success of his company from time to time because of the name of the country of his birth, Germany.
World War II did not allow Rolex to survive World War II. Because of the World War, Rolex could not export its products from Switzerland to other countries.
This made Hans very tense. The death of his wife rubbed salt into his wounds. Hans's wife died in 1944.
To take positive energy from that pain, he established the Wilsdorf Foundation in the name of his wife. Before his death, Hans donated all his property to this foundation, which does various charitable works.
The company, which was destroyed in the Second World War, began to re-emerge in the market as soon as the war ended. By 1946, the company had sold 50,000 chronometer-certified Rolex watches.
The company increased the number of watches sold in the previous 20 years to 100,000 within a year, i.e. in 1947. Behind this success is the role of the Rolex Datejust watch released by the company in 1945.
Not only was the watch waterproof and self-setting, it also had information about what month it was. A decade after the release of the Rolex Datejust watch, the company released another model, the Rolex Day-Date. The clock was a clock that showed the time of the week along with the month.
After that, Rolex started producing watches with new features one after the other. In 1953, the company introduced the Rolex Submariner model, which was the first watch to be submerged up to 100 meters underwater.
Hans died in 1960. Even after his death, Rolex watches are still established as the world's most expensive brand. After Hans's death, the company focused on producing only expensive and exclusive watches, targeting the wealthy.
After 1984, the company started producing watches using only 90L steel, which is considered the most expensive in the world. Because of this, Rolex became an expensive brand. Thus rising from an orphaned life, Hans changed the watch industry of the world.
His passion for new designs and technical innovations has made him an influential figure in the watch industry even today. Today, the Rolex company is running through the Wilsdorf Foundation.
This means, this company will never become a public limited company and it will never be sold. Also, being a company that operates on donations and donations, this company never has to pay any tax.